Specialty Chemicals for the Textile Industry
Our experienced development teams provide our customers with comprehensive technical service and develop customized solutions according to their requirements. We are aware of our responsibility for future generations and are committed to maintaining a healthy balance between economic, environmental and social requirements when developing new products and technologies. For the textile industry, we offer products and technical support along the entire textile production chain.
Our product portfolio ranges from process auxiliaries for sizing, pretreatment, dyeing and printing to finishing when it comes to defining the final product properties and qualities of fabrics and garments. We provide solutions to optimize production processes and help to sustainably protect the environment through products that meet textile standards such as ZDHC, GOTS, OEKO-TEX® and bluesign®.
Sizing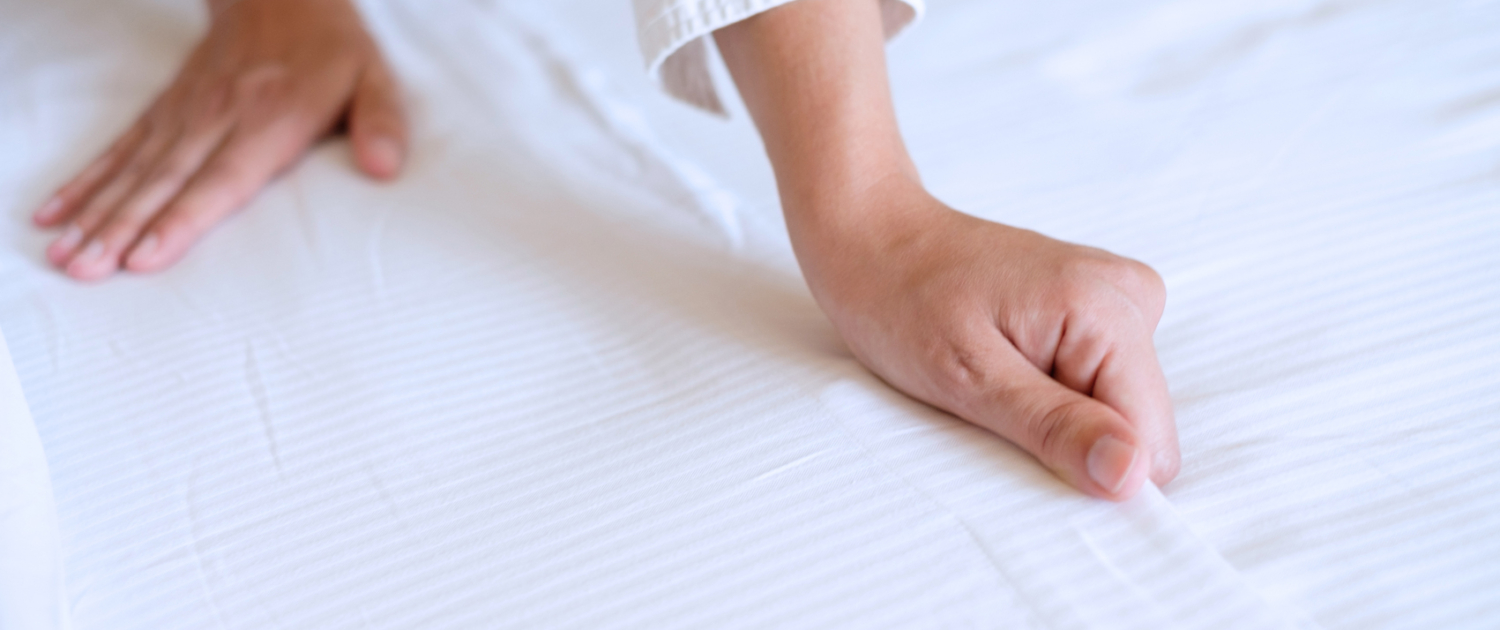 Raw material combinations for maximum effectiveness
Sizing is crucial for weaving warp yarns. Pulcra Chemicals offers efficient products that ensure that high-performance weaving machines do what they are supposed to: produce trouble-free, 24 hours a day, with maximum efficiency. Pulcra Chemicals is one of the few full-range suppliers in the market for sizing agents. Depending on demand and customer requirements, film-forming polymers on a natural and synthetic basis are used. Single-component products as well as specialized formulations are available. In addition, Pulcra Chemicals offers sizing additives with smoothing and antistatic effects as well as products with smoothing, adhesive, antistatic components such as warp wax or cold sizing.
We offer a complete range of sizing agents for all fiber types and sizing processes:
For staple fiber yarns and filament yarns
For use in the boiler and in the regrowth device
For use as a warp wax and as a cold sizing on the sectional warping machine
Products:
Our product portfolio includes high-performance sizings based on renewable and synthetic raw materials. In addition, we offer sizing additives and warp waxes. Brands: AVIROL, FIBROPUR, INEX, QUELLAX
Benefits:
Wide range of sizing agents for all fiber and yarn types
Improve profitability and quality of web processes
Many variants of cold sizing agents
Product solutions for all environmental and wastewater requirements
Worldwide customer and laboratory service
Historically grown know-how with well over 50 years' experience in the field of sizing
Pretreatment
Clean work the gentle way
The pretreatment of yarns, knitwear and fabrics is often a science in itself. Before a fiber can be uniformly dyed, pretreatment must be carried out. Here, in addition to the natural accompanying substances, sizing and preparations are also completely removed. The bleaching process, which is also part of the pretreatment, also ensures that untreated textiles are lightened and can then be dyed in light shades without any problems. Ultimately, pretreatment involves more than just cleaning.
Efficient systems are needed for optimum effects. When it comes to combining all these elements in efficient chemical systems, Pulcra Chemicals is your ideal partner. With our comprehensive understanding of the processes, our laboratory skills and our knowledge of machinery and materials, we can ensure that you get the best results.
Products:
Mercerizing Agents
Uniform penetration of the alkali into the fiber core.
Brand: FLORANIT
Desizing Agents
Desizing of woven materials sized with starch.
Brand: FORYLASE
Stabilizers
Bleaching processes without loss of tear strength as well as maximum whiteness due to controlled decomposition of the bleaching agent.
Brand: STABILOL
Wetting, washing, fat dissolving and detaching agents
For all types of fibers, universal use.
Brand: COTTOCLARIN, FORYL, SYNTERGENT
Complexing Agents
Complexing, dispersing of alkaline earth and heavy metal ions.
Brand: SECURON, LOCANIT
Neutralizing Agents
Perfect neutralization of alkaline finishing processes.
Brand: SECURON
Optical brighteners
Increase whiteness, various shades of white and different requirements
Brand: ONDALON
Benefits:
Wide product range for all process stages and all textile fiber types
Tailor-made problem solutions for all process stages in pretreatment
Pretreatment products with ECOlogical and/or ECOnomical properties
Special pretreatment products with toxicological and dermatological certificates for cosmetic and medical purposes
Special pretreatment products for feather and down processing
Worldwide customer, laboratory service
Historically grown know-how with well over 50 years of experience in the field of pretreatment
Dyeing
Auxiliaries that determine the shade
Colors change as quickly as fashion. However, their brilliance and fastness must be preserved. In addition to the right dyes, optimum dyeing auxiliaries are of utmost importance.
Competence in all fiber qualities and machine technologies
Each fiber and each fiber blend requires its own dyeing system. Pulcra Chemicals offers the right system for every dyeing process, matched to your specific machine technology. This results in trouble-free processing and brilliant, color-fast dyeings.
Products:
Lightening and stripping agents
Textile auxiliaries for stripping and lightening dyeings.
Brand: LAMESTRIP
Dispersing and protective colloids
Dispersing and fine dispersion of dyes. Special products for minimizing and removing oligomers in PES dyeings.
Brand: BREVIOL, OSIMOL
Levelling agents
For a more uniform raising and dyeing to avoid color unevenness. Special products for dyeing raw cotton and its blends.
Brand: BREVIOL
Deaerators
For faster wetting of the textile material.
Brand: BREVIOL, FORYL
Defoamers
Reduction of foam formation.
Brand: BREVIOL
Destruction of residual peroxide
Removal of peroxide residues after peroxide bleaching.
Brand: LORINOL
Fiber protecting agents
Wool protecting agent for dyeing of wool and its blends with PES.
Brand: BREVIOL
Crease preventing agents
Crease preventing and lubricating agent for dyeing all fibers with all classes of dyes.
Brand: BREVIOL
Fixing agents
Aftertreatment agents to improve the fastness properties.
Brand: LOCANIT, STABIFIX
Reducing agents
Auxiliaries for reductive cleaning, machine cleaning and for stripping of dyeings.
Brand: LORINOL
Oxidizing agents
Auxiliaries to prevent color shifts caused by reductive action.
Brand: LORINOL
Alkali
Special alkali for dyeing cellulosic fibers with reactive dyestuffs using cold pad batch process.
Brand: LOCANIT
Padding auxiliaries
Penetration-promoting dispersants for dyeing cellulosic fibers. Antimigration agents.
Brand: BREVIOL, OSIMOL, SUPERCLEAR
Benefits:
Worldwide Technical Service
Wide range of dyeing auxiliaries for different fibers and machine combinations
Special developments for almost any desired effect on almost any fabric
Dyeing products with ECOlogical and/or ECOnomical properties
Worldwide customer, laboratory service
Historically grown know-how with well over 50 years of experience in the dyeing industry
Printing
Printing auxiliaries for all fiber qualities and machine technologies
Whether flat screen, rotary screen, transfer or inkjet printing, the printing chemistry always follows the same basic principle. To ensure that the inks adhere sharply to the desired areas, dyes and pigments are processed into printing pastes. These are complex preparations of the most varied compositions and viscosities. Pulcra Chemicals has extensive knowledge in the manufacturing and application of printing pastes.
Thickener
Synthetic or natural is a crucial question in printing chemistry. Do you want to print with acrylates, alginates, guar or other thickeners? We will be happy to help you make the right choice. Preferably, we work with natural, biodegradable substances.
Products:
Printing thickener for all types of fibers and printing machines.
Brand: LAMALGIN, LAMEPRINT, STABIPRINT
Auxiliaries for textile printing
Emulsifiers, deaerators, defoamers, oxidizing agents, reducing agents, tabletop adhesives
Brand: BREVIOL, LORINOL, INEX, STABIPRINT
Cleaning and dye solvent agents
Brand: STABIPRINT
Aftersoaping and washing agents 
Brand: STABIPRINT
Benefits:
Product focus on natural, biodegradable substances
Printing thickener for all fiber qualities and printing processes
Improvement of color yield, contour sharpness and fastness of prints
Printing products with ECOlogical and/or ECOnomical properties
Worldwide customer, laboratory service
Finishing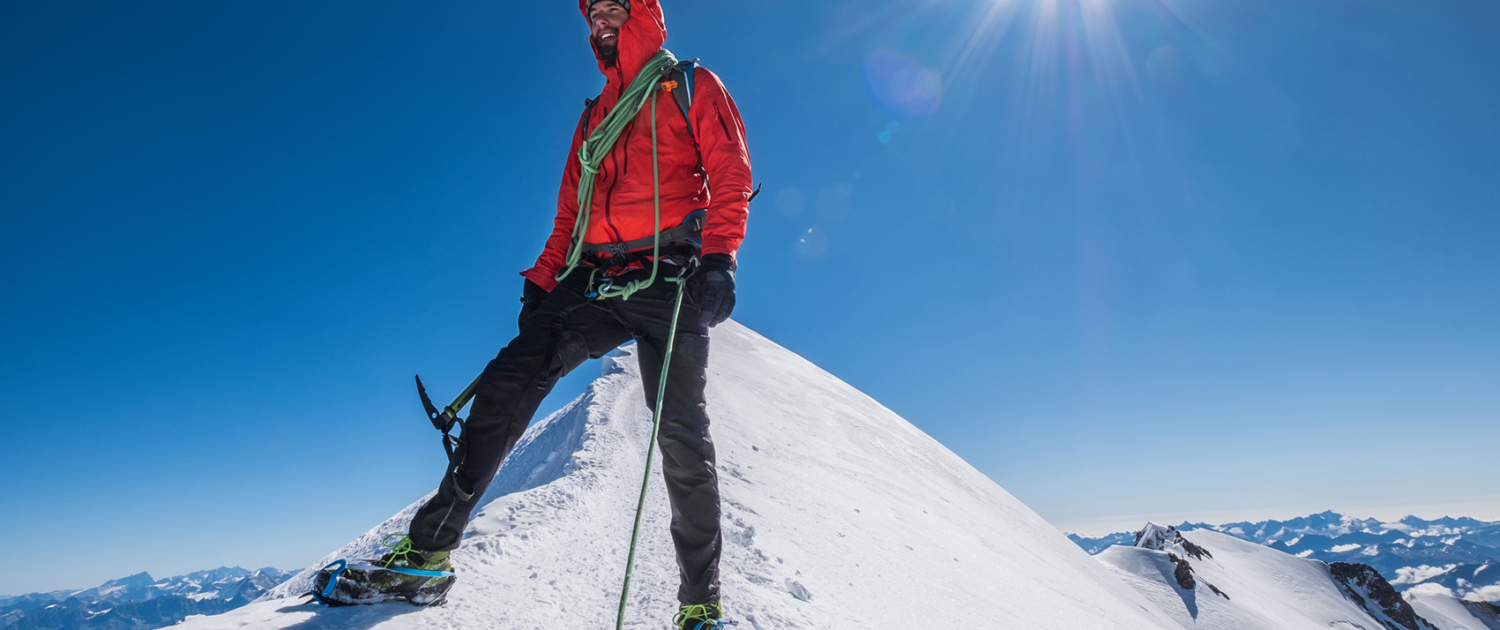 Turning product visions into reality
Textile finishing is an indispensable part of the textile value chain. We help fashion designers to realize their ideas and manufacturers to produce garments efficiently. The market is increasingly demanding textile finishes with fashion effects and auxiliaries that enable special usage properties of fabrics, e.g. softer handle and easy care, improved comfort, moisture management, antibacterial finish, water or oil repellency. As in any good relationship, the chemistry must be right. PULCRA makes sure the chemistry is right and offers a variety of finishing products for customized solutions.
Products:
Antistatic agents
Antistatic agents counteract electrostatic charges and safeguard process sequences.
Brand: KATAX, NONAX
Polymer products for antipilling, filling and grip finishing 
Provide different grip effects depending on the grip requirements.
Brand: STABIFORM, STABIFLEX, STABICRYL
Additives for crease- and shrink-resistant finishing
Highest demands on dimensional stability and easy care properties. Increased wearing comfort.
Brand: STABITEX
Flame retardants
Auxiliaries for flame retardant finishing of textile surfaces.
Brand: NONAX FR
Special additives
Foaming agents for finishing liquors and coatings. Textile auxiliaries for the prevention of roller deposits.
Brand: NONAX
Water-, oil repellency agents
Durable water and oil repellent finish for all types of textiles; anti-staining finish.
Brand: REPELLAN, PELLAN
Fluorine-free water repellency
Durable water-repellent finish for all types of textiles.
Brand: PULCRA TEC, DEVAN REPEL, DEVAN EXTENDER
Crosslinker 
Extender which improves the wash durability of oil and water repellents.
Brand: REPELLAN, PELLAN
Hydrophilizing agents
The use of hydrophilizing agents makes synthetic fibers more absorbent.
Brand: NONAX
Antislip agents
Non-slip agents for all types of fibers.
Brand: NONAX
Softeners
Auxiliaries which individual customer requirements for fabric handle, surface smoothness, sew-ability, hydrophilicity and elasticity can be met. For all textile materials and application methods.
Brand: ADALIN, ADASIL, AQUASOFT, BELFASIN, BELSOFT, SETILON
Antibacterial finishing
Auxiliaries for the permanent and antibacterial finishing for all kind of textiles.
Brand: NONAX, PULCRAQUAT
Benefits:
Worldwide Technical Service
Wide range of equipment aids
Comprehensive range of finishing effects on textiles for all application methods
Quality products that are recognized worldwide
Finishing agents with ECOlogical and/or ECOnomical properties
Historically grown know-how with well over 50 years of experience in the field of equipment
Denim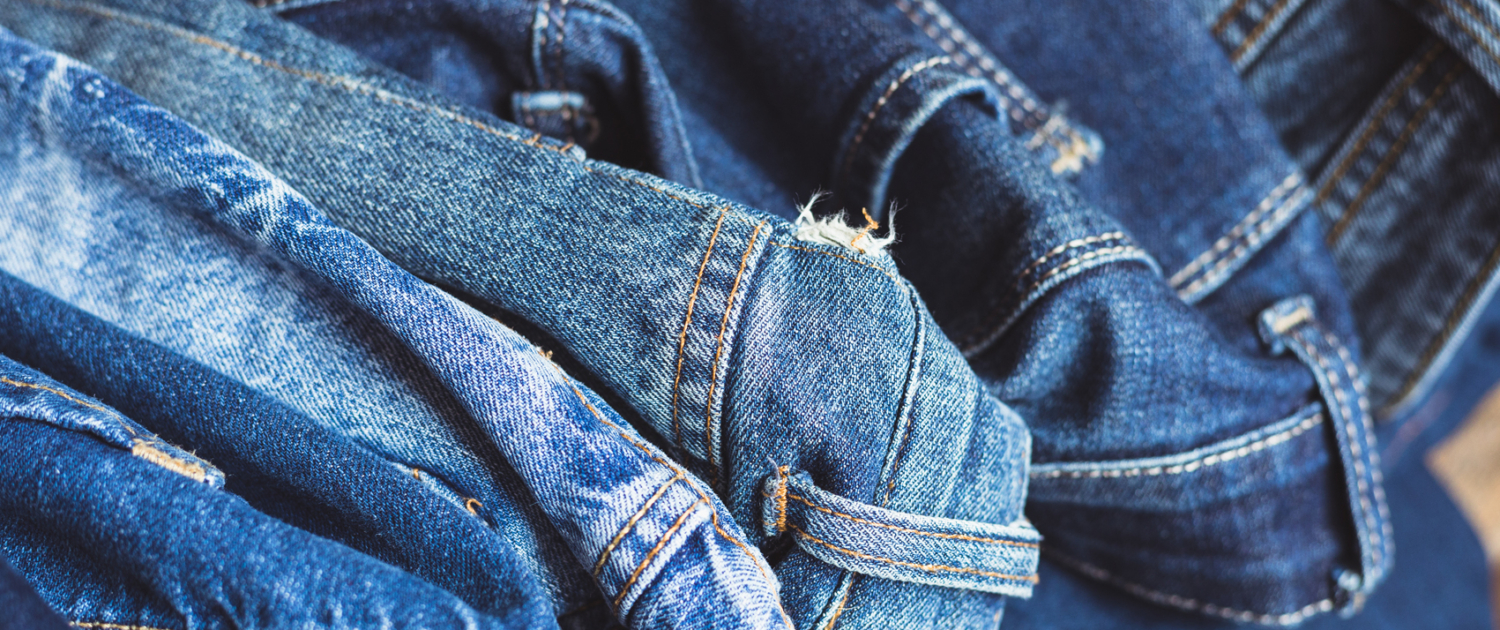 Jeans and Garment
Denim occupies a special place among clothing textiles. The indigo color and the fashionable wash-out effects make the difference. For generations, jeans have been a basic in the closet and are constantly reinvented with new designs and effects. For the production of denim, Pulcra Chemicals offers a wide range of products from sizing, pretreatment, dyeing to finishing. Our goal is to support our customers with innovative auxiliaries, so that they can sustainably position themselves in the market and help shape new trends. In doing so, we adhere to the highest standards in our industry and are committed to strict compliance with all regulations and quality programs.
The most ecological way from cotton to jeans.
Brands are becoming more environmentally conscious in their choice of materials and suppliers and are taking into account the growing importance of sustainable textile production. Reducing wastewater and its ingredients is an important part of saving costs, increasing quality and protecting the environment. By using BREVIOL® Denim Technology (BDT) in indigo and sulfur dyeing, the amount of water needed to wash out the unfixed dye is reduced to a minimum. BREVIOL® Denim Technology (BDT) is based on a polymer that reacts with both the dye and the fiber. This technology not only protects the planet, but is also a cost-saving solution, as less water is used in the process and the amount of dyes used can be reduced.
Benefits:
Water and energy savings advantages
Less wastewater contamination, including watercolor
Provide reduced indigo and sulfur dye usage & cost savings due to lower indigo and sulfur dye consumption, as almost 100% of the applied dye remains on the yarn
Improve Dye Fastness properties & the ability to produce darker Dye shades
Less & even zero dye bleeding during re-beaming, sizing & finishing processes
Provide an Ecological Overdyeing Process with / without a Steamer
Produce Special and better Ring Dyeing Effects
Total elimination of bronzing effect.
You can find more information about our DENIM products

 here:
Tissue
BELSOFT® CARE for tissue with soft handle
As the name suggests: BELSOFT® CARE convinces with its very special functionality. After finishing, the tissue inspires with a soft and supple handle – thanks to a genuine premium surface texture of velvety smoothness. At the same time, its tear resistance is fully retained. In addition, our low-foaming, shear-stable and water-dispersible emulsion enhances the end product in many ways:
Volume enhancing effect for tangibly more value
Preservation of absorbency (hydrophilicity)
Use of valuable plant extracts
Use of individual fragrances
Hygiene
Hygiene – We develop solutions
At Pulcra Chemicals, we are proud that our mission extends to protecting people, first responders and medical personnel. As a specialty chemical manufacturer, our mission is to understand complex problems and help shape safe, timely and effective solutions. To this end, Pulcra Chemicals offers a variety of textile auxiliaries with toxicological and dermatological certifications for hygiene and medical applications.
Read more information about our products in our flyer
: